Brian Muir started with the John Willment Organization as a mechanic. He is seen here with Jack Sears who is preparing to drive the Willment Ford Galalxie at Brands Hatch on Aug. 5, 1963. Photo courtesy of Ford Motor Company.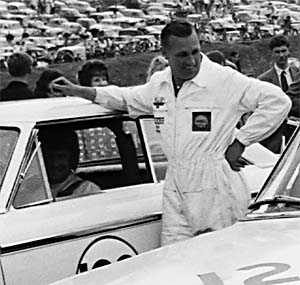 Trained as a motor mechanic in his native Sydney, Australia. He first tasted motor sports at the age of 19 and won a Championship series in 1956. Brian also known as "Yogi", went to England in 1962 and worked as a mechanic with Jack Brabham. In 1963 John Willment offered him the post of Chief Mechanic. He prepared Willment's 7 litre Ford Galaxies and first drove in England one of Willments Ford Cortinas. He continued to participate in the sport until his sudden death in 1983 at the age of 52.
To read more about Brian, here's a reprint of his obituary as printed in Autosport.
Source:
Autosport, Sept. 15, 1983, p. 9.