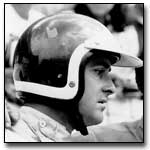 Bob Bondurant
Photo: Courtesy Dan Gurney's All American Racers
Born at Evanston, Illinois in 1933 had his first interest in racing sparked when eight years old while watching midget dirt track racing with his father. It wasn't long and he started racing with a motorbike, then an Indian motorcycle and he changed from two wheels to four in 1956 when he entered his Morgan Plus 4 in a race. Bob won the SCCA B-Production Championship for the West Coast in 1959 driving a Corvette.
He went with Carroll Shelby and Ford Motor Company to professional racing in Europe, starting in 1964. In the following year, Bob was instrumental in assuring Shelby American the World Manufacturers Championship when his Cobra won more points than any other driver/car combination.
Having raced this Lotus 30/40 for Willment Racing Team, where he finished second at Silverstone behind Denny Hulme and his McLaren in 1966, his experience in many diverse types of cars is extensive. Enzo Ferrari gave him his first formula ride in the USGP in 1965 and a contract to drive Ferrari prototypes in 1966. Additionally, he raced the King Cobra, Ford GT 40's (for John Wyer / John Willment as well as Shelby), BRM F-l, Cooper F-2 and F-3, Gurney Eagle F-l, Lola T-70's, McLarens, NASCAR stock and IMSA cars.
Bob tutored James Garner and others for the movie "Grand Prix" and found that experience so fulfilling he started the Bondurant Driving School, Feb. 14, 1968 following a 150 m.p.h. accident in the Dana McLaren Mk II at the 1967 Watkins Glen CanAm race. His efforts have since made this one of the most successful high performance driving schools in the world. Over 1800 students per year attend the schools various courses.
For more information about Bob, visit his web site at http://www.bondurant.com/Bob.html
Sources:
Road & Track, Oct. 1965.
Bondurant, Bob, and John Blakemore, Bob Bondurant on High Performance Driving, 2nd Edition, Osceola, Wis., USA: Motorbook International, 1987. P. 7, 8, 11-32.
Statistics from Formula One World web site:
DATE OF BIRTH 27 April 1933
NATIONALITY American
FIRST GP START US GP 1965
GRAND PRIX STARTS 9
GRAND PRIX WINS 0 Best Finish – 1 x 4th Place
POLE POSITIONS 0 Best Grid Position – 1 x 11th Place
POINTS SCORED 3
TEAMS 1965 Ferrari (US GP Only)
1965 Lotus (Mexican GP Only) Did not score Championship points
1966 Eagle (US and Mexican GP Only)
1966 BRM Finished 14th in Championship
Source: http://www.formulaone.free-online.co.uk/index.html