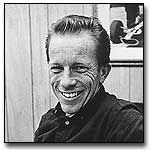 In the early sixties, Richie Ginther was one of America's rising racing stars — he was part of the first generation of American drivers that took Europe by storm. Having started racing in California with other aspiring racers such as Phil Hill, Ginther eventually became a factory Ferrari and BRM team driver, just as did Hill. Ginther also made a place for himself in Formula One history, capturing the very first of many F1 wins for Honda — and for Goodyear as well, with his only F1 victory at the Mexican GP in 1965.
As with most drivers at the time, Ritchie was also an experienced sports car driver, and he drove one of the new Lotus 40 cars (Chassis 40/L/1) for the Los Angeles Times Grand Prix for Sports Cars at Riverside, California on October 31, 1965.
It was at this race that when Ginther was asked what the difference was between the Lotus 30 and 40. He answered that they took the Lotus 30, made ten more mistakes and called it the Lotus 40.
As no one appears to have been there to write down Ginther's exact words, we have used the paraphrased quote as printed in Motoring News. One week after the Motoring News article was published, Autosport came out with the following:
"As one wag put it, 'The Lotus 40 seems to be nothing but a Lotus 30 with 10 new mistakes added.'"
The version of the quote that one reads today is simply that a Lotus 40 is a Lotus 30 with ten more mistakes. Since Autosport didn't seem to know who made the remark, it seems likely that the exact wording of their 'quote' is in doubt.
Today, Ritchie's jab is just about the only information found about the Lotus 40. And while there is some truth in his comment, as it appears that Lotus had lost its focus on producing sports car prototypes. The McLaren, Lola, and Chapparal were better-designed cars than the Lotus, and perhaps more importantly for this type of racing, the Chevrolet and Oldsmobile engines were lighter and had more power than the Ford. And maybe, Lotus was more interested in Formula 1 and Indianapolis, leaving little time and possibly no desire to produce a response to the other manufacturer's cars.
Sources:
Motoring News, Thursday, Nov. 11, 1965, p. 7.
Autosport, Nov. 19, 1965, p. 846.
www.grandprix.com
Last Updated on May 19, 2019 by Kirk Keyes