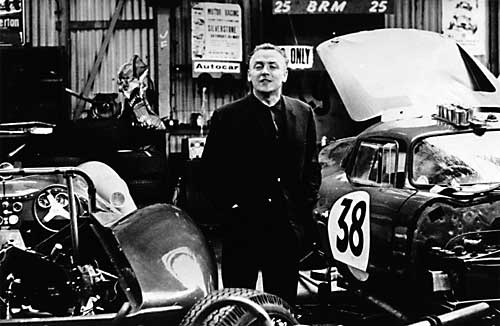 Jeff Uren alongside the 'Race Proved by Willment' team's Lotus Cortina in the Race Shop.
Photo courtesy of Jeff Uren.
Jeff Uren informed me (Richard Keyes) that John Willment had established the Willment Speed Shop in 1953. They manufactured and sold racing parts like manifolds, headers, cams and heads for Fords. They manufactured the Willment Sports Car which was driven by Graham Hill and raced in 1953-54. John 'Spike' Winters was the head engine mechanic with apprentice Ken A. Brittain and John Pacavier the other team members.
In 1954 Jeff entered the Monte Carlo Rallye with his brother Douglas and their friend Donald. They finished 142nd out of 1000 starters. Jeff had been with John Willment interests since 1955-56 when they raced under the banner "Scuderia Thottles Bendori." The team consisted of John Willment, Ian Walker, John Becky and Jeff.
Jeff had approached Ford Motors Co. to be hired in 1959 when both of them were campaigning Zephyrs. They told him to get lost after pointedly telling him they didn't need his help. Immediately after this, they met on the race track of Silverstone and Jeff beat the three factory entries by 1/2 lap. Maury Buchneister, Head of Ford Competition was furious and accused him of ruining their introduction of the new model. Jeff went on to win the BRSCC Saloon Car Championship that year and in October was asked to become Fords Team Manager by Walter Haynes. (Director of Public Affairs for Ford, later Vice President Ford America). Jeff continued with Ford Motor Co. until John Willment obtained his Ford franchise in 1963 and Jeff rejoined John's new Racing and Special Equipment Division.
Jeff Team Managed for 16-17 years and I believe in 1976 accepted an Engineering position with Ruston & Bucyrus in Africa. (Managing heavy mining hauling and extraction equipment). He later returned to England where he is owner of an Interior Design Studio doing commercial building design.
Jeff felt he had brought a business sense to racing and was instrumental in bringing it from club activities to professional activities. He likened the efforts to Kentucky Thoroughbred Racing and heighten the amount of showmanship with displays and enclosures for the cars, a first in England.
Source:
Uren, Jeff, Personal Interview with Richard Keyes at Uren's home in Ashburton, Devon, Aug. 4, 1986.
Last Updated on October 3, 2017 by Kirk Keyes