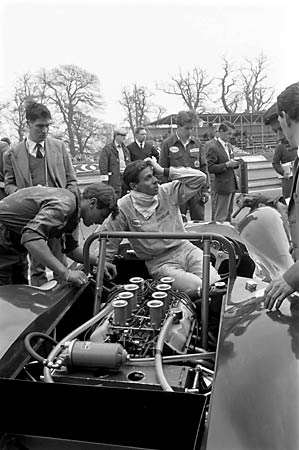 "(Jimmy) Clark, the world's greatest driver. Jimmy's sheer superiority was hard to believe. Sometimes it seemed that he did not merely win races; rather that the competition surrendered to him in the seconds immediately after the start." From Grand Prix by David Hodges, Doug Nye, and Nigel Roebuck,
Jim Clark was a natural when it came to motor racing – his skill was simply beyond compare. His ability to adapt his technique to any car was unsurpassed, as the time he was racing a Lotus 33 Formula 1 car when the rear anti-sway bar came loose demonstrates. Not only was Clark able to keep the car under control as the car's handling was drastically changing, but he also was able to maintain his lead in the race without the bar!
The Lotus 30 and 40 have been said to be the only cars that ever taxed Jimmy's skills. Despite racing them in numerous races from 1964-65 and even finishing first in several of them, he never seemed to have good luck while racing one.
Jim was killed at Hockenheim, Germany, April 1968 in a Formula 2 Lotus.
Jim Clark raced the Lotus 30 and 40 cars in the following races:
LOTUS 30
1964
April 18 Sports Car Race Aintree 2nd
May 2 Sports car race Silverstone Retired
May 16 Guards Trophy Mallory Park 1st
August 3 Guards Trophy Brands Hatch Retired
August 29 Tourist Trophy Goodwood 12th
Sept. 26 Sports car race Mosport Retired
Oct. 11 Times GP Riverside 3rd
1965
March 20 Guards Trophy Silverstone 1st
April 19 Sports car Race Goodwood 1st
May 1 Tourist Trophy Oulton park Retired
June 5 Sports car race Mosport Retired
LOTUS 40
1965
Aug. 30 Sports car race Brands Hatch, Heat 1 – 8th, Heat 2 – Retired
Oct. 31 Times Mirror GP Riverside 2nd place, Car No. "1"
See a Competition Listing of all of the races in which Jim Clark completed in during his life.
Sources:
Hodges, David , Doug Nye, and Nigel Roebuck, Grand Prix, London: Michael Joseph Ltd., 1981, p. 134.
Graham Gauld, personal e-mail, Apr. 9, 2002.
Last Updated on January 13, 2019 by Kirk Keyes