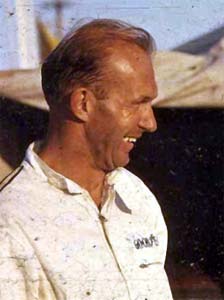 Frank Gardner OAM, twice winner of the British Saloon Car Championship, the European Formula 5000 Champion, runner up awards winner in the European Formula 2 and Touring Car Championship as well as British Champion Racing Driver in 1972, having won the Tarmac Championship. From Sydney, Australia he is a motor racing legend of some 40 years with bikes, speedboats and cars. In 1952 he was both swimming and racing for the state and was Captain and sweep oarsman for the surf life saving crew that won both State and National titles. He also did 7 professional boxing matches that year. He graduated with a degree in mechanical engineering from Ultimo Technical College in Australia. He is presently racing in historic meets his 1950 XK120 Jaguar, recently restored.Frank established the Holden Performance Driving Centre near Norwell, south of Brisbane, Australia. With over 45 years in the motorsport industry, Frank has an envied world-wide reputation for driving and developing racing cars. Frank is one of the worlds foremost authorities on driver training techniques.What is the OAM after his name? It stands for "Order of the Australian Medal". It is a title accorded by the Queen to individuals who have excelled in their chosen fields as a recognition for their contributions to the community and society. Read Frank Gardner's comments on driving Lotus 30s and 40s.
Statistics:
DATE OF BIRTH 1 October 1930
NATIONALITY Australian
Formula One:
FIRST GP START British GP 1964
GRAND PRIX STARTS 8
GRAND PRIX WINS 0 Best Finish – 1 x 8th Place
POLE POSITIONS 0 Best Grid Position – 2 x 11th Places
POINTS SCORED 0
TEAMS 1964 Brabham (British GP Only) Did not score Championship points
1965 Brabham (British GP Only) Did not score Championship points
1966 Did not drive in Formula One
1967 Did not drive in Formula One
1968 BRM (Italian GP Only. Failed to qualify) Did not score Championship points
Other Motorsports:
1957 – NSW Sportscar champion (C-Type Jaguar), having won 23 out of 24 races
1962 – Formula Junior (Brabham). 24H of Le Mans, finished 8th overall, 1st in Grand Touring 1300 class, Lotus Engineering/ Lotus Elite Mk.14 Climax (1678), car #44, driven with David Hobbs
1963 – Sports cars and F.Junior
1964 – retired British GP (John Willment – Brabham-Ford). F2
1965 – 7 F1 GP (John Willment – Brabham-BRM), 0 points. 4th Race of Champions
1966 – Tasman Series
1967 – British Touring Car Champion, Ford Falcon. F2: 2nd, 33 points, 1 win (Hockenheim), Formula 2 – 2nd place for season, Brabham BT23, BT23C – FVA. 24H of Le Mans, GT40 MKIIB 1031, car # 5, driven with Roger McCluskey. Third overall in Tasman championship, tying Jackie Stewart and Jack Brabham.
1968 – DNQ Italian GP, Bernard White – BRM. British Touring Car champion, Ford Cortina/ Escort.
1969 – copiloted Porsche factory 917 with David Piper in the 1000 km of Nürburgring in 1969. Finished 8th.
1971 – European Formula 5000 Champion, Lola.
1972 – F5000 champion, Lola.
1973 – Tasman series, 1 win, 3 seconds. Retired from single seaters. British Touring Car Champion, Chevrolet Camaro.
1976 – Australian sports sedan championship.
1977 – Australian sports sedan champion, Chevrolet Corvair.
Sources:
Thoroughbred & Classic Cars, Aug. 1986, p. 60.
Gardner, Frank, with Doug Nye, Castrol Racing Drivers Manual, New York: Area Publishing Co., 1973, p. 131.
Formula One World web site
Holden Performance Driving Center web site
Silhouet.com web site
Porsche917.com.ar