Oil Painting by Dexter Brown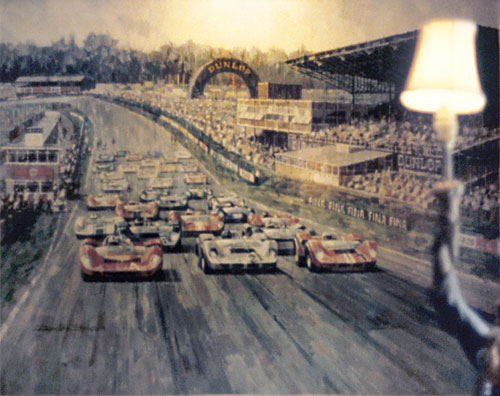 This oil painting depicts the start of the Guards International Trophy Race, held at Brands Hatch on 30 Aug. 1965. The painting measures 3 by 4 feet, and was hanging in the lounge of the prestigous Steering Wheel Club in Mayfair, London, England. Ms. Sue Bancroft was gracious enough to invite Richard and Letha Keyes into the club as guests of Mr. Graham "Ricky" Capel. Mr. Capel was the president of the Historic Lotus Register at the time. This photo was taken by Mr. Keyes during this visit in 1983.
(We appologize to Mr. Brown for the mixed lighting and the appearance of a part of a table lamp that do not allow the beauty of Mr. Brown's artistry to show.)
A crowd of 60,000 fans were on hand to watch John Surtees driving a brand-new Lola T-70 Chevrolet snake his way from pole position to keep the lead at the start.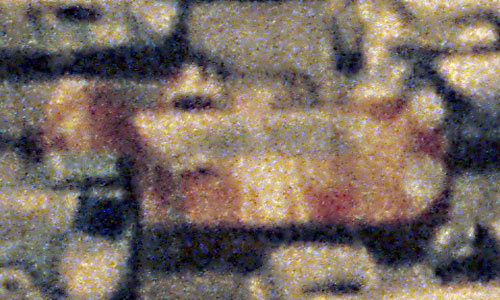 Zooming in on a portion of the above photograph to better show the Willment Lotus 30.
Frank Gardner in the Willment Team's Lotus 30 can be seen starting from 7th on the grid in the middle of the thrid row. Gardner works his way up to 4th place in Part 1 before finally retiring with a failed gearbox.
Jim Clark made his first outing in the Lotus 40, starting from 18th. He never made it any higher than 8th place in Part 1, spinning just after half distance and then once again a few lasp later due to gear-box selection issues. In Part 2 Clark retired with a siezed differential which caused him to spin and hit a bank on the outer side of the track.
John Surtees went on to win both parts of this two-part race, placing him the overall winner.