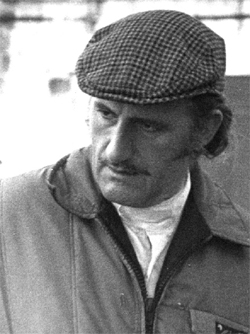 Graham Hill – Two Time Formula One World Driving Champion, circa 1972, in a moment of seriousness.
©2003 Copyright David Beard
Graham Hill, after driving for Willment, went to Lotus and worked as a mechanic in 1956. Graham first drove for Lotus as a reserve driver for the 1957 LeMans. He was assigned to assist in getting the team cars accepted by having two local French drivers for the 1100 cc Mark Eleven Lotus.
By the 1958 LeMans, Graham was promoted to the factory team driver and drove the 2 litre Type 15 Lotus and shocked everyone by putting up the 5th fastest practice lap. Graham left Lotus at the end of 1958 for BRM.
He later became twice World Champion driver, 1962 (BRM) and 1968 (Lotus). He died attempting to land his plane on a foggy night at Elstree aerodrome in England on November 29, 1975. He was returning from a test session at Paul Ricard.
Hill, with his Errol Flynn good-looks, and his unsurpassed ability to joke around with the best of comedians, was deeply missed.
Sources:
Cromhac, Gerard "Jabby", and Patrick Stephens, Colin Chapman – The Man and His Cars, Wellingborough, England:, 1986, p. 64, 77, 88.
http://www.grandprix.com/gpe/drv-hilgra.html
Last Updated on October 3, 2017 by Kirk Keyes