According to the article "Will 1965 be the Year? The Development History of the Biggest Lotus", Motor, 1965 Jun 10, this Series 2 Lotus 30 was delivered to John Dean. This car was ex-Works on 1965 Dec 18, body color of "BRG", Lotus Ford V8 Serial Number 1122, and ZF 5DS20 Serial Number 51.
Known Owners

30/S2/2

1965 –

John Dean

1967 Jun/Jul – John Macdonald (HK)

1968 – Mr. Schitzuwawa (JP)

Present – Missing
John Dean – Lotus 30 at Phoenix Park in 1966…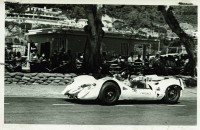 John Macdonald of Hong Kong purchased the car from John Dean in the summer of 1967 (Macdonald tested the car at Silverstone prior to purchase).
1967-Sep-02 –  GT and Sports Car Race, Batu Tiga Kuala Lumpur, Malaysia, Result – DNS. Although entered the car was withdrawn prior to the start with a suspected cracked block!
1967 Sep 03 –  Macdonald raced at the Tunku Abdul Raman Trophy meeting at the Batu Tiga circuit, Kuala Lumpur, Malaysia. Formula Libre. 75 laps. 158 miles. Result – DNF. He had to cut away the firbeglass body to accommodate the larger wheels (or tyres?). Dropped a valve in practice resulting in a broken piston. It was welded up but only lasted a lap or two by which time the front suspension had broken! He started from the back of the grid and by the first quarter of a lap had carved his way through half the field. He pitted after only one lap, restarted but retired soon afterwards.
1967 -Sep-08. Johor GT and Sports Car Race, Pasir Oudang circuit, Johor, Malaysia. Pole position with a1m 41.2s. Result : DNF. John broke the GT lap record in practice by 4.8 seconds and started on pole. He had a slow start but took the lead on the second lap and held it until lap 13 when he retired with a broken upright (without hitting anything!).
09-Sep-67. Johor Grand Prix   60 laps. 138 miles. Pasir Oudang circuit, Johor, Malaysia. Track length = 2.2 miles. Broke an upright on the Lotus 30/40 in practice without hitting anything which resulted in no brakes! Luckily John managed a long stop in a straight line up an escape road with storm drains on each side. Teddy Yip kindly loaned John his ex-Lee Hang Seng Lotus 22 for the race in which he completed 59 laps and finished 3rd .
1967-Nov-19. Macau Grand Prix XIV. 60 laps. 228 miles. Practice 5th with a 3m 05.8s. Result : DNF. John was last after the 1st lap and came into the pits. He soldiered on but a water leak from radiator forced his retirement at the Melco hairpin on lap 25.
07-Jan-68. Motor Sports Club of Hong Kong (MSCHK) Hill Climb Champoinship. Round 2. Golden Hill Hill Climb. 913 yds. FTD 39.42s. John held the motor cycle, GT cars and open class records for this hill.
It may have been used at another hill climb venue where John got FTD but this is not confirmed.
1968 Mar 24. Fuji 300 Yomiuri Asian Challenge Cup. 70 laps / 300kms. Result : 24th place. Circuit length = 4.3kms. Although the car didn't finish the race it was classified as a finisher.
1968 Mar 24 –  Sold in Japan to Katsuomi Shiozawa. Shortly afterwards the car's bodywork was remodeled by Shiozawa putting his own body on the car. John commented "thereby removing the only beautiful thing about it".
Editor Note: The previous information on John Macdonald was supplied by Angus Lamont via personal communication, 2001 Feb 24 and http://forums.autosport.com/topic/199390-span-inc-lotus-30/ Retrieved 2015 Sep 27.
Shiozawa raced under the pseudonym 'George Katsu' (mainly in NAC stock car races in Japan). The pseudonym 'George Katsu' (phonetically sounding like Japanese name 'Johji Katsu') has a hidden layer of meaning, loosely translating as 'Win Always'. He renamed the car the 'IMAI A-I DELL FORD'.  The 'Dell' part of that came from the small club/constructor 'Dell RSC Racing' which entered the car in a few races, and the 'Imai' part came from sponsor 'Imai Mokei' – the  plastic model kit manufacturer. [1]http://forums.autosport.com/topic/193619-se-asian-motor-racing-mystery-2/
The car took part in a few races in Japan, with at least one of them being in fairly illustrious company.
1968 Mar 24 – Fuji 300 Yomiuri Asian Challenge Cup, Japan. I don't know the result but it was a DNF.
1968 – another race…
Last Updated on September 27, 2015 by