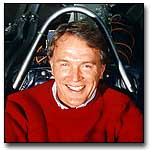 Dan Gurney
Photo Courtesy of Dan Gurney's All American Racers
Dan Gurney, the greatest American driver / constructor, born in 1932, is also perhaps the greatest Grand Prix driver America has yet produced, according to David Hodges, et al in Grand Prix. Gurney was the main competition for Jimmy Clark and Lotus. Dan raced for the first time in 1955 with a Triumph TR2. His first Formula One race was the 1959 French GP driving a Ferrari. By 1968 he became a constructor and built the first Eagles for both Grand Prix and Indianapolis racing. He is still in the motor trade.
Karl Ludvigsen says in Gurney's Eagles, Harry Weslake and his staff prepared drawings for the new heads to fit the American Ford engine. They had circular inlet ports, valves inclined at nine degrees to the cylinder centerline instead of the stock twenty degrees, and combustion chambers with the heart shaped outline that was a Weslake trademark. Under John Miller's supervision the first such heads were cast in the US by Alcoa, and then two more sets of heads, a Mk II version, were made in England for Gurney's All American Racers (AAR) by Weslake. Though Westlake had initiated the design, to Gurney's requirement, virtually all the development and testing were done in Santa Ana by John Miller.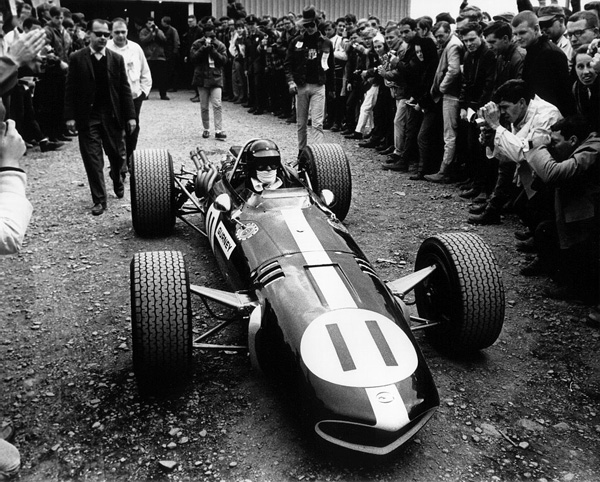 The Spa winning Titanium Eagle V12 comes back from the European F1 circuit to race at the US Grand Prix in Watkins Glen 1967.
Photo Courtesy of Dan Gurney/All American Racers.
Late in 1966 AAR started work on the lighter and less bulky Mk IV edition of the heads and by 1968 they were being produced at their own facilities at Rye, England. They were used for both of the winning LeMans twenty-four-hour races in 1968 and 1969. They had also been used to power the winning Lola in the 1966 sports car race at both the Bridgehampton USRRC and CanAm races, in 1967 and 1968 they powered the winning Eagle in the Rex Mays 300 (USAC road race). Also in 1968 the Mosport 200 (USAC road race) was won and the second and fourth position at Indianapolis 500 were garnered. In 1969 USAC racing cars using these heads won Indy Raceway Park 100 road race, and Donnybrooke 100, while placing second at Indianapolis 500, Castle Rock 150 and a third at the Rex Mays 300. The last year they were used in USAC racing by AAR was 1970 where they won both Sears Point and Phoenix 150 as well as third at the Indianapolis 500.
In prototype racing, Gurney-Weslake powered GT-40 Fords by JW Automotive in 1968 had victories at Brands Hatch, England; Monza, Italy; Spa, France; the first two places at Watkins Glen, US; and with the LeMans win, they won the Championship. In 1969 the GT-40 won Sebring, LeMans, had class wins at Brands Hatch, Nurburgring (Germany), and Monza.
Sources:
Hodges, David, Doug Nye, and Nigel Roebuck, Grand Prix, London: Imprint Books Ltd., 1981.
Ludvigsen, Karl, Gurney's Eagles, Minn., Motortext, Inc., 1976.
Dan Gurney's All American Racers – www.allamericanracers.com/
Statistics:
DATE OF BIRTH 13 April 1931
NATIONALITY American
FIRST GP START French GP 1959
GRAND PRIX STARTS 86
GRAND PRIX WINS 4
POLE POSITIONS 3
POINTS SCORED 133
TEAMS 1959 Ferrari (German, Portuguese and Italian GP Only) Finished 7th in Championship
1960 BRM Did not score Championship points
1961 Porsche Finished 3rd in Championship
1962 Lotus (Belgian GP Only. Failed to start)
1962 Porsche Finished 5th in Championship
1963 Brabham Finished 5th in Championship
1964 Brabham Finished 6th in Championship
1965 Brabham Finished 4th in Championship
1966 Eagle Finished 12th in Championship
1967 Eagle Finished 8th in Championship
1968 Brabham (Dutch GP Only)
1968 McLaren (Canadian, US and Mexican GP Only)
1968 Eagle Finished 21st in Championship
1969 Did not drive in Formula One
1970 McLaren (Dutch, French and British GP Only) Finished 2nd in Championship
NOTES Winner of the Sebring 12 hours, 1959
Statistics Source:
http://www.formulaone.free-online.co.uk/index.html