| | |
| --- | --- |
|  Chassis No. | Known Owners |
| 30/L/13 | 1964 Automobile Club of Angola |
When tracking down the history of cars, one never knows where tips for the history of a particular car may come from. Bob Dove (mechanic on 30/S2/5) related a story of a Portuguese chap camped out side the lotus factory as the thirty he was driving had a suspension failure. The story continues that  week later to get rid of him, Lotus gave him a 23b.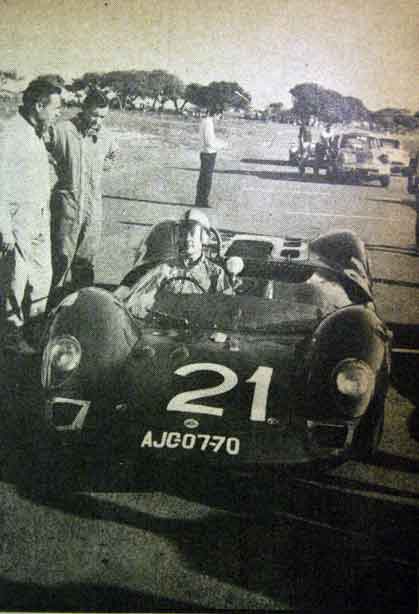 Dear Rui
Absolutely fantastic thank you so much for the information. I hope you enjoyed doing it as a lotus enthusiast I am sure you did.
So to me it looks like 30/L/13 was fixed and given the new chassis number  30/L/23 Classic lotus trick the chassis list does not show engine or g/box number so one assumes its the same engine box combination as per 30/L/13.
So all we have to do now is find the remains of the car and you can restore it now there is a challenge for you LOL.
We shall keep in touch via Face book well done.
Kind regards andy.
Ps are we ok to use the pictures on the HLR news letter and can we put them on the lotus 30 web site.
Andy
On 17 Sep 2015, at 10:10, Club Lotus Portugal <club@clublotusportugal.com> wrote:
Andy,
The Angolan story of Chassis 30/L/13 starts with the acquisition of the car by the Automóvel Touring Clube de Angola which owned the rights to organize the Angolan racing events. They also owned cars – like two Maserati 300S, a Ferrari 250 GT SWB a later a Lotus 23B which were usually raced by Angolan drivers like Alvaro Lopes, Flavio dos Santos, Henrique Bandeira Vieira and Maximino Correia.
Chassis 13 enters in some African events in 1965 but it?s an ill-fated car (people say that this chassis was born on a bad day) with lots of problems like continuous leaks which source couldn?t be determined and even one time when Alvaro Lopes end up with the steering wheel in his hands when testing the car at high speed in the Catete road in Luanda, Angola.
Having failed to qualify for several events and always breaking up, ATCA had enough with the car; It was a too long novel (you can see a cartoon attached where the car is mocked by the Angolan Press). ATCA had to threaten the use of diplomatic channels to receive some attention from Lotus and after several complains, Lotus sent a mechanic to Angola. The man opened the engine, didn?t like what he saw and went away without even saying "goodbye?. After this, ATCA sent the car from Mozambique directly to the manufacturer and received from Lotus the following proposals: they would repair the car and send it back; or they would repair the car, sell and send the money to the ATCA; or, they would send a brand new Lotus 23. ATCA immediately accept the last proposal and raced this car with great success until it was shipped to Portugal and sold (photo also attached).
Ironically after having been returned by the ACTA to Lotus, it?s purchased by the Swiss pilot Pius Zund (who was part of Scuderia Fillipineti) and is enrolled, alongside a 7 litre Cobra and a Ferrari 275LM in the GP of Angola of November 1965! Curiously when it returned to Angola, this horror car was painted white, still the purity didn?t save it. In fact during practice and due to a suspension break, the car collides with some palm trees with both the car and the pilot finishing their careers in that spot. Zund was seriously injured and sent to the hospital with several fractures, it appears he was saved in Switzerland after several surgical interventions that saved his life. Unfortunately he never returned to car racing.
As for the L/13, this is the last we know from it. Some say that there was a lack of empathy between the car and the air of Angola?
Nº 30/L/13 1964 – Automobile Club of Angola
1965 – Ecurie Filipinetti / Driver: Pius Zund. Car appears to have been destroyed in an accident at the 1965 Angolan GP at Luanda, Angola. It was believed that the car had a suspension failure which caused the accident.
Rui Pedro Coelho




Manager




+351 968092154


rui.coelho@clublotusportugal.com
http://www.clublotusportugal.com