Colin Chapman at the 1981 Long Beach Grand Prix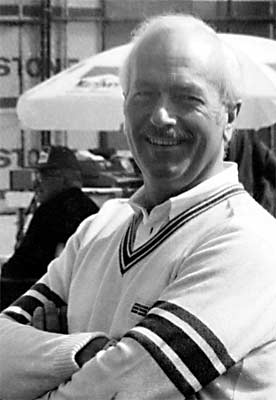 "Anthony Colin Bruce Chapman was born in Richmond, Surrey on May 19, 1928. He studied at University College, London, learning to fly in the University Air Squadron, and, in the late 1940's, bought and sold some decidedly used cars to supplement his income. He became an enthusiastic member of the 750 Motor Club, building specials to their prewar Austin 7-based racing formula. He called his first car Lotus, and the name stuck. In 1948, Chapman gained his degree in civil engineering, and went to work for a construction engineering company. In 750 Motor Club races his Lotus specials were increasingly dominant, and in 1952 he founded the Lotus Engineering company in the stables at the rear of his father's Railway Hotel in Hornsey, North London. By the mid-1950's Lotus sports cars were the epitome of modern, lightweight, space frame chassis design and aerodynamics." (In June, 1959 Lotus moved their factory to Cheshunt ? ed. note).
"Colin Chapman maintained his dynamism and effort into the 1980's as head of an engineering group producing road cars, Formula One racing cars, luxury motor yachts and power boats, plastics, and undertaking technological research and development for others in the motor industry. Demanding, impetuous, incredibly talented –Colin Chapman has dominated the motor racing scene." Colin Chapman – The Man and his Cars, Gerard Crombac "In the international world of motor racing, the Lotus Grand Prix cars became world famous, winning seven world championship for Constructors and six World Championship for Drivers titles, a unique record which, in recent years, can only be compared with Ferrari's."
He died suddenly in Dec. 1982.
Source:
Quotation from Hodges, David , Doug Nye, and Nigel Roebuck, Grand Prix, London: Michael Joseph Ltd., 1981, p. 85.
For more information about Colin Chapman, visit http://www.grandprix.com/gpe/cref-chacol.html
Last Updated on January 13, 2019 by Kirk Keyes