Hornberg Grafik Poster
Hornberg Grafik is Karl-Heinz Hornberg, a graphic artist from Gütersloh, Germany. For many years the Lotus 30 and 40 have been some of Karl-Heinz's favorite racing cars because of her unusual bodywork form. He first noticed the Lotus 40 in 1970 after seeing the Tamiya 1/24th scale slot racing kit. After this he started to seek and collect information and photos about these cars.

Jim Clark's Lotus 40 – Los Angeles Times Grand Prix, Riverside, CA, USA, Oct. 31, 1965
Hornberg Grafik Can-Am Poster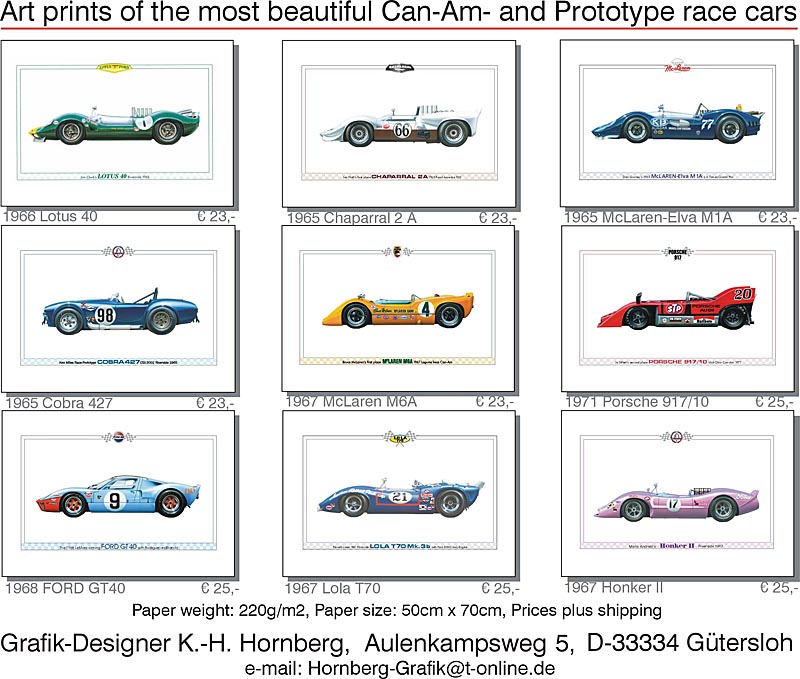 Karl-Heinz Hornberg can be contacted through his email :
or by mail at:
Grafik-Designer K.-H. Hornberg Aulenkampsweg 5, D-33334 Gütersloh, Germany Fax: 05241/687466
Poster Description:
The paper size for each graphic is 50 x 70 cm ( about 19.7 x 27.6 in.) and is printed on 220 gram heavy paper. All prints are handsigned by the artist, and printed in editions of 200.
The price per print is 23 Euros. Please include a shipping charge: Germany 6.-euro, EU 9.50 euros, and for the USA 14.- euro/dollar.