Lotus Race Sets Revisited
"Lotus Race Sets Revisited" was a magazine advertisement that can be found in the August 1964 of Road & Track. It pictures a Lotus 7, an Elan, a Lotus 23B, and a Lotus 30 in a driveway, with a gentleman and his lady trying to decide which car to take out for the day.
For a larger image, click on the image at the right.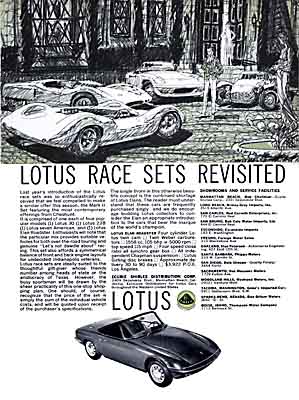 The following is the text of the ad:
Last year's introduction of the Lotus race sets was so enthusiastically received that we feel compelled to make a similar offer this season, the Mark II Set featuring the most contemporary offerings from Cheshunt.
It is comprised of one each of four popular models (1) Lotus 30 (1) Lotus 23B (1) Lotus seven American, and (1) Lotus Elan Roadster. Enthusiasts will note that the particular mix provides suitable vehicles for both over-the-road touring and genuine "Let's not dawdle about" racing. This set also affords a symmetrical balance of front and back engine layouts for undecided Indianapolis veterans.
Lotus race sets are ideally suited to the thoughtful gift-giver whose friends number among heads of state or the aristocracy of Texas. However, the busy sportsman will, be drawn by the sheer practicality of this one-stop shopping plan. One should, of course, recognize that the price of the set, is simply the sum of the individual vehicle costs, and will be quoted upon receipt of the purchaser's specifications.
The single thorn in this otherwise beautific concept is the continued shortage of Lotus Elans. The reader must understand that these cars are frequently purchased singly-and we do encourage budding Lotus collectors to consider the Elan an appropriate introduction to the cars that bear the marque of the world's champion.
LOTUS ELAN ROADSTER
Four cylinder Lotus twin cam
Twin Weber carburetors
1558 cc, 105 bhp@ 5000 rpm
Top speed 115 mph
Four speed close ratio all synchro gear box
All independent Chapman suspension
Lotus Girling disc brakes
Approximate delivery 30 to 90 days
$3,922 P.O.E. Los Angeles.
SHOWROOMS AND SERVICE FACILITIES
MANHATTAN BEACH, Bob Challman-Ecurie
Shirlee Corp., 2301 Sepulveda Blvd.
LONG BEACH, Briney-Gray Imports, Inc.
3515 Atlantic Ave.
SAN CARLOS, Rod Carveth Enterprises, Inc.
770 El Camino Real
SAN BRUNO, Bob Cole Motor Imports, Ltd.
444 El Camino Real
ESCONDIDO, Escondido Imports
183 E. Washington
FRESNO, Foreign Motor Sales
310 Blackstone Ave.
OAKLAND, Stan Peterson-Autocourse Engineering
427 East 12th St.
SANTA BARBARA, Phipps Motors
233 W. Carrillo St.
SAN DIEGO, Dale Shoupe-Quality Foreign
3464 Kurtz
SACRAMENTO, Von Housens Motors
1729 Fulton Ave.
WOODLAND HILLS, Westland Motors, Inc.
20021 Venture Blvd.
TACOMA, WASHINGTON, Geno's Imported Cars
5911 Steilacoom Blvd. S.W.
SPARKS-RENO, NEVADA, Dan Gillum Motors
1840 "B" St.
BOISE, IDAHO, Thompson Motor Company
1112 Bannock St.
ECURIE SHIRLEE DISTRIBUTION CORP.
2409 Sepulveda Blvd., Manhattan Beach, California. Exclusive Distributors for Lotus Cars throughout the Western United States
Reprinted from Road & Track – August 1964